Part I of Aly Raisman Series by Darby Daly and Marissa Egloff
Former United States Olympic gymnast Aly Raisman has one of the most impressive resumes. As a gymnast, Raisman captained the United States Olympics women's gymnastics team in both 2012 and 2016, during which time she earned six Olympic medals, including three gold, two silver, and one bronze. Leading up to the Olympics, Raisman created a significant name for herself as an athlete through international gymnastics competitions, including participating, and dominating, the World Championships from 2010 to 2015. Outside of gymnastics, Raisman has become a renowned celebrity spokesperson for mental health awareness and sexual assault survivors. In 2018, Raisman added to her resume yet again by becoming a New York Times bestselling author after the success of her autobiography Fierce: How Competing for Myself Changed Everything.
Raisman's book takes readers through an extensive and deeply personal journey through her career as a gymnast and beyond. With the first chapter starting in 2002 and the final chapter ending in 2016, readers experience 14-years of Raisman's life over the span of 29 page-turning chapters. Raisman immediately captivates readers through her explanation that her Olympic dream began as a young child. Although Raisman could have written a book just focused on her Olympic journey alone, she immerses readers in the personal aspects of her life, including various nicknames she had as a child, the adoption of her two younger sisters, the death of her beloved grandmother, and more.
Throughout the book, Raisman emphasized the importance of not letting obstacles deter her main goal of becoming an Olympic gold medalist. Regardless of her championship status, Raisman put in an exuberant amount of effort to get there, often finding herself placing 4th in the majority of competitions over the course of her career. Raisman also repeatedly mentioned how, despite her success, critics often counted her out when it came to predicting her Olympic success. Rather than letting this get to her, Raisman used it to elevate her determination and thus made her work even harder to get to first place. Raisman's raw honesty in discussing her repeatedly placing fourth and the public perception of her not being the best on the team is an essential piece of her book, allowing readers to see that they too should never give up on their goals, despite how impossible they may seem at times.
Another crucial part of her career that she walked readers through was her experience of becoming a celebrity while simultaneously becoming an Olympian. Raisman emphasized how easy it has been for the public to forget that during this time, she was just a young woman – a young woman who cherished every opportunity presented to her and never took anything for granted. Raisman humbly discussed various encounters with other celebrities who casually became part of her life after becoming an Olympian, including David Ortiz, Joe Jonas, Justin Beiber, and Michael Phelps. Part of what kept Raisman grounded during this time was her mother's advice to always be kind to others and to be a good person despite any hardships or frustrations: "It's the person you are who matters, not how high you place. Remember that when you're out there."
Raisman was proud not only to represent her country at the Olympics but also the Jewish community, a part of her life which she repeatedly touched on throughout Fierce. After winning Gold in the floor final of the London 2012 games, Raisman decided to dedicate her medal to the memory of the Israeli athletes who had been murdered in the terrorist attack during the 1972 Olympic Games.
Raisman has also become an advocate for positive body image for both young girls and women. In her book she states, "I'd come to realize that girls and women face lots of pressure from society about their bodies. Instead of feeling good about the wonderful things about them, they are taught to dislike what makes them stand out." Raisman agreed to be featured in ESPN's Body Issue, an offer which she explained to readers that she went back and forth on whether this was a good idea or not. She thought to herself, if this was a man no one would think twice about him posing nude for a photo. Raisman ultimately decided to take part in the shoot to help her gain more confidence in herself and to help others feel more comfortable about their own bodies. She stated that she felt very empowered and strong throughout the shoot and that she really liked the way she looked in those photos. This was the start of a new chapter for Raisman where she learned confidence comes from within.
Raisman's leadership skills in the gym translated to her becoming the forefront and spokesperson for USA gymnasts in the sexual abuse case against USA Gymnastics doctor Larry Nassar. Although Raisman only briefly discussed these experiences in Fierce, she included just enough to give the readers an idea of the emotional and physical toll that this experience had taken on her. Rather than focusing on her own experiences in detail, Raisman used her book as a platform to advocate for sexual assault survivors, urging readers to reach out for help if they too suffer in silence as she, and many other USA gymnasts, once had. While many people know Raisman for her success as an Olympian, she has also become widely known since the release of Fierce for her courtroom appearances against Nassar, which would make it safe to assume a large portion of her book to be dedicated to these experiences. But instead, Raisman focused on this dark topic in a brief, yet moving way – even admitting to the readers that she contemplated cutting this part of her story out, but ultimately realizing how important it was to include in Fierce for the sake of telling her story in its entirety.
While her story ends after chapter 29, Raisman added a few more personal touches, including sections: "The Fierce Guide to Life," an Author's Note, "Resources for Survivors," and Acknowledgements, and a Discussion Guide. Through these sections, Raisman gives readers a motivational and personal pep talk about self-care. Raisman takes her self-care advice even further by telling readers the importance of speaking up if they are suffering with suicidal thoughts or have been the victim of sexual abuse. Similarly to the substance of her book, Raisman includes such a personal touch that readers feel as though they are reading a personal message from Raisman to themselves, which undoubtedly has impacted some, if not most, of her readers and fans. Raisman's inclusion of an acknowledgement section is another example of her appreciation for her family, as she so emphasized throughout Fierce. While the final section, the Discussion Guide, serves as an important list of questions for readers to discuss amongst themselves regarding important topics such as body image and sexual assault awareness.
Raisman testifying September 15, 2021 at the Senate Judicial Hearing in Washington. Photo Credit: AP
While her story focuses on her achievement of becoming one of the most decorated Olympians in history, Raisman repeatedly reminds readers the importance of being a kind person and not giving up on self-perseverance. Raisman's humbleness continually serves as a reminder that she's a real person, with emotional and physical aspects that played a significant role in her success. Raisman discusses how she has overcome personal mental health battles with herself in which she doubted her ability and has fought through the urge to quit her beloved sport. She also explains situations in which she came close to suffering career ending injuries and the importance of taking the proper care of her body as an athlete. Raisman's Olympic grace translated effortlessly into her debut as an author, with storytelling skills seamlessly developing a personal connection with the reader. After completing the book, we feel as if we have known Raisman personally since 2002.
Raisman's story is so important for everyone to serve as a reminder that we are not alone with our personal struggles, regardless of the successes we achieve. Fierce is a must read for athletes and non-athletes alike. Raisman's inspirational story provided a fantastic book, and even though her Olympic career ended in 2016, Raisman's success beyond the Olympics could allow her to write another fantastic book about her post-Olympic career, an idea that we hope to pitch to her when she visits us at the University at Buffalo for its "Distinguished Speakers Series."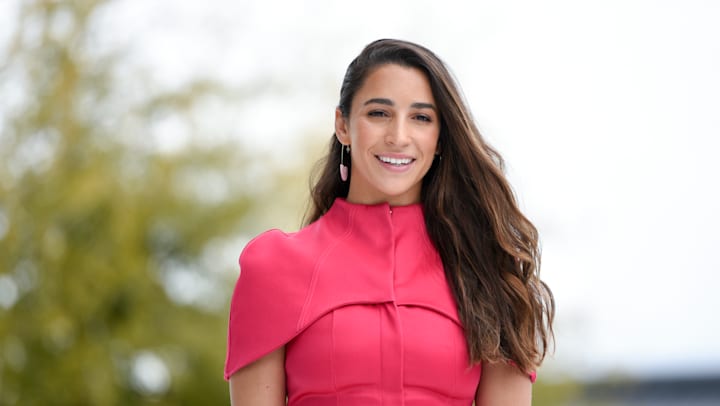 Aly Raisman announced her retirement via Twitter on January 14, 2020. Photo Credit: Olympics.com
Featured Image Photo Credit: https://www.thebostoncalendar.com/events/aly-raisman-author-event