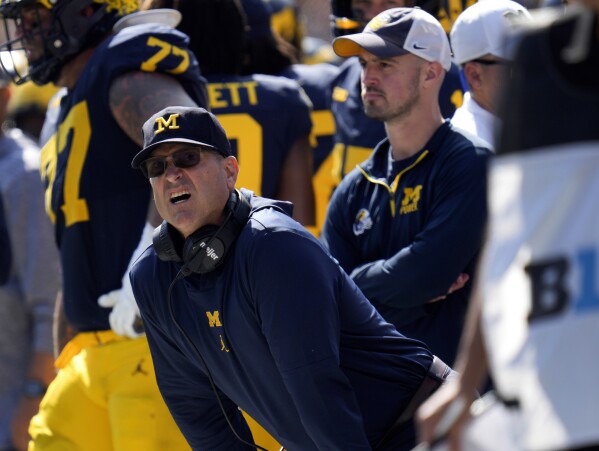 The BigTen announced on Friday that it was suspending Michigan coach Jim Harbaugh for the remainder of the regular season as the conference disciplines the program under its sportsmanship policy amid the ongoing NCAA investigation into the school's in-person sign-stealing ring.[1] Harbaugh and the University immediately requested a temporary restraining order and filed an ex parte motion.[2] This suspension currently bans him from the "game venue" on game days, but keeps his ability to coach throughout the rest of the week.[3]
The Michigan President expressed his thoughts on the situation and stated, "Today's action by Commissioner Tony Petitti disregards the Conference's own handbook, violates basic tenets of due process, and sets an untenable precedent of assessing penalties before an investigation has been completed. We are dismayed at the Commissioner's rush to judgment when there is an ongoing NCAA investigation — one in which we are fully cooperating."[4] An attorney for Harbaugh also raised concerns that the league was moving too quickly in letters sent to the conference Wednesday.[5] The letter said a punishment from the Big Ten would be ignoring both due process and the conference's bylaws.
In its motion for a temporary restraining order against the Big Ten, Michigan argued that the conference "breached a contract, succumbed to pressure, and threw procedure out the window in pursuit of summary punishment" in suspending Harbaugh. The University stated the Big Ten did not follow its own procedures and misused its sportsmanship policy as a basis for the punishment. The motion stated that suspending Harbaugh would cause "irreparable injury" to Michigan's team, a provision for the granting of a TRO, and cited both reputational damage for Harbaugh as well as the team suffering from his absence for the stretch run. The University is now 9-0 and in contention for the National Championship, so the motion states the harm done to the students would be irreversible, as they are gearing up to play three important Conference games. "Suspension of Coach Harbaugh deep into the team's season would irreparably harm the University's chances of success."[6]
Connor Stalions, a Naval Academy graduate who became a Marine Corps captain before joining Michigan's staff in 2022, resigned last Friday after initially being suspended with pay pending the outcome of the investigation.[7] Sources told ESPN that Stalions refused to attend a meeting with Michigan officials or to comply with the NCAA investigation, possibly on the advice of counsel. In a statement released to The Athletic, Stalions' attorney, Brad Beckworth, said Stalions had no knowledge of Harbaugh or other Michigan staff members telling anyone to violate rules regarding off-campus scouting, nor were they aware of any such activities.
---
[1] https://www.espn.com/college-football/story/_/id/38864724/sources-big-ten-ban-michigan-jim-harbaugh-field
[2] Id.
[3] Id.
[4] Id.
[5] Id.
[6] Id.
[7] Id.
---